Ways to Participate As a Member of Costume Jewelry Collectors International.
CJCI Social Forum – Your Information & Comments are Needed!
Our jewelry friends participating in the CJCI Social Forum have posted numerous questions, topics, and news items and they'd love to have your feedback on them:
DeLuxe Jewelry – Has anyone heard of it? (Forum)

Adele Simpson Jewelry– Any other collectors out there? (Forum)

Read My Pins: The Madeleine Albright Collection – Is the exhibit worth seeing? (Blog)

James Hobe Necklace – More information on a recent forum discussion (Blog)

Looking for Jewelry with a Story to Tell – Do you have a piece Linda Lombardo can write about in CJCI Magazine? (Notes)

Log in to share your expertise and opinions with our CJCI friends today! If you're not signed on yet and need a new invitation to access the site, email Melinda@costumejewelrycollectors.com and she'll take care of you.

Post a CJCI Banner or Button on Your Site – and Win!

Remember the television ad touting "an educated consumer is our best customer?" It's cliché now for sure, but after all these years the statement is still so true when it comes to consumers recognizing craftsmanship and style.
So how can you help your customers and friends get the education they need to be better jewelry consumers? Introduce them to CJCI Magazine! To help you, we've recently posted a banner page with a number of options and easy-to-copy code to add to your site:
www.costumejewelrycollectors.com/banner.htm
.
When you post one of our banners or buttons on your site, email jay@costumejewelrycollectors.com a link to the page and you'll be entered into a drawing for a free business card ad (a $45 value) in CJCI Magazine. The deadline to enter is July 25, so get those banners up soon!

Visit Advertisers Supporting the Efforts of CJCI Magazine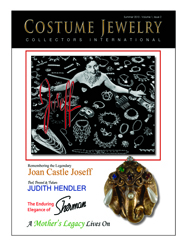 What a great response we've had to the summer issue of
CJCI Magazine
! Did you notice we added four more pages to the issue you just received and featured four advertisers? Those advertisers made the magazine expansion possible so we could bring you more of the jewelry photos and features you're telling us you love to see.
Please take a moment to thank these advertisers for their support of CJCI by visiting their businesses:
Antique Textiles Vintage Fashion Show and Sale
in Sturbridge, Mass. (begins July 12) – Linda Zukas – 207/363-1320
Bangle Caddies and Vintage Costume Jewelry
–
www.banglecaddies.com
Pretty Snazzy
– Vintage Costume Jewelry and Rhinestones
www.prettysnazzy.com
Rhinestone Castle
– Vintage Jewelry and fashion from the 1920s to the 1980s
www.rhinestonecastle.com
CJCI Magazine ad deadline for the fall issue is July 31. Email Jay at jay@costumejewelrycollectors.com or visit
the CJCI website
for more information on advertising options starting at just $25-45 for classified and business card ads.